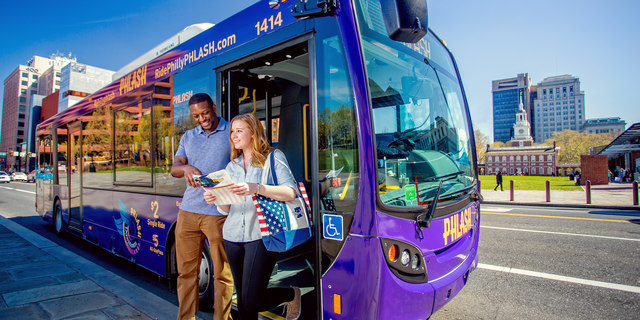 Photo by J. Fusco for IVCC
The most convenient way for visitors to get around.
The Philly PHLASH® Downtown Loop is a visitor-friendly public transit service managed by the Independence Visitor Center Corporation. 
The PHLASH provides access to stops located near must-see attractions, from Penn's Landing on the Delaware River Waterfront to the Please Touch Museum in Fairmount Park.
At just $2 per ride, $5 for a One-Day Pass, or $7 for a Two-Day Pass, it's the most affordable way to get around. Children 4 & under, senior citizens, and SEPTA Pass holders always ride free. 
Service Details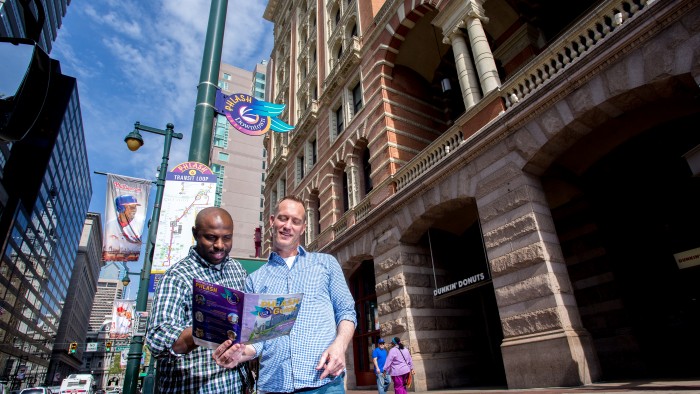 2018 Service Schedule
PHLASH is currently operating every Friday - Sunday. Daily service will resume on November 23. 
2018 Service Schedule:
March 29 - April 29: Friday - Sunday Service
May 1 - September 3: Daily Service
September 7 - November 18: Friday - Sunday Service 
November 23 - December 30: Daily Service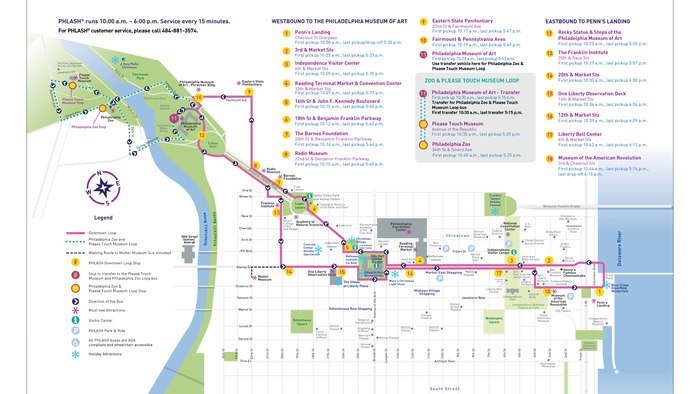 Downtown Loop Route
The PHLASH route has stops located near popular attractions, including: Academy of Natural Sciences, Barnes Foundation, Eastern State Penitentiary, Franklin Institute, Museum of the American Revolution, Mütter Museum, National Constitution Center, National Museum of Jewish American History, One Liberty Observation Deck, Philadelphia Museum of Art, Philadelphia Zoo, Please Touch Museum, Reading Terminal Market, Shops at Liberty Place. Download Route Map & Schedule (PDF)
Park & Ride
Present your PHLASH Pass to receive a discounted daily parking rate at the following Philadelphia Parking Authority garages:
Stop 3: AutoPark at Independence Mall, 41 N. 6th Street: $11
 
Stop 4: Parkade on 8th Street, 801 Filbert Street: $8
 
Stop 4: AutoPark at Gallery Mall, 45 N. 10th St.: $8
 
Stop 16: AutoPark at Jefferson, 14 S. 10th Street: $8
 
Stop 18: AutoPark at Olde City, 125 S. 2nd Street: $8
To redeem, present your Pass at the garage management office. Must enter the garage after 9 a.m. and depart by 7 p.m.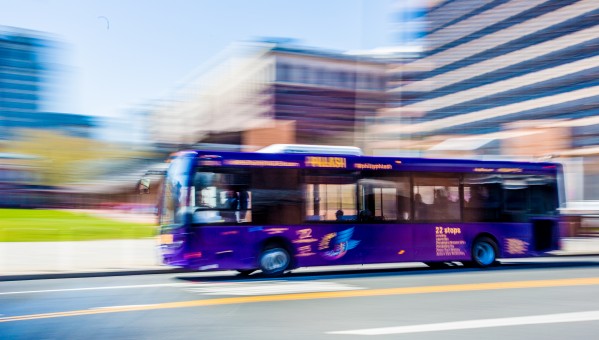 Find PHLASH on-the-go! Go to RidePhillyPHLASH.com on your smartphone or mobile device for service alerts and transit updates.