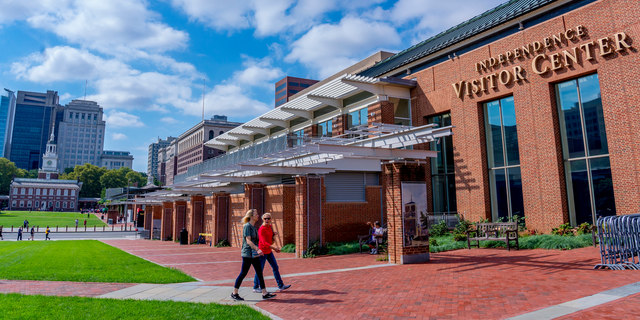 Photo by J. Fusco for Visit Philadelphia
Starting here can lead anywhere.
Welcome to your first stop for visiting Philadelphia! The Independence Visitor Center is the perfect place to begin any trip.
We have the City of Brotherly Love covered, from the Delaware River Waterfront and Historic District, to the Benjamin Franklin Parkway and Fairmount Park. 
After starting here, you'll know where to go, what to see, and how to get there. Start here to make the most of your time in Philadelphia.
Plan Your Time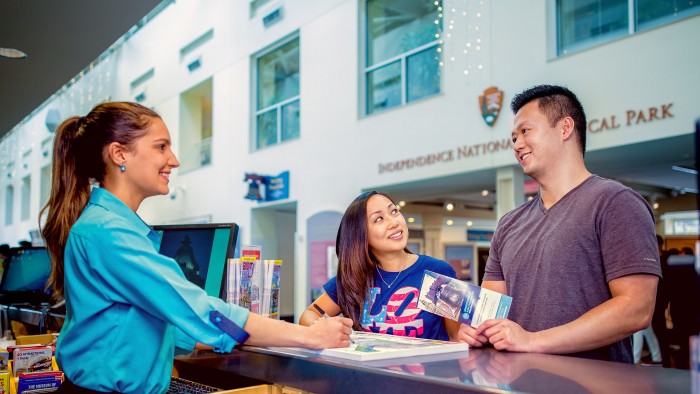 Visitor Services
Speak with friendly, multilingual Visitor Services Representatives to plan your itinerary, or to purchase tickets for more than 100 local tours, attractions, and museums.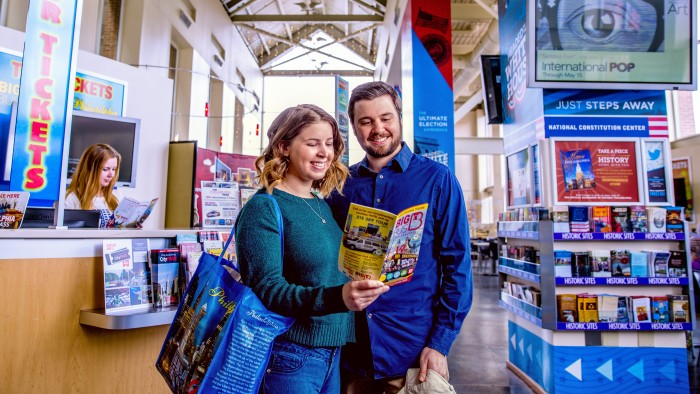 Maps & Brochures
Pick up a free map or brochure, including the Official Visitors Guide (published in nine languages), or the latest issue of the Historic Philadelphia Gazette.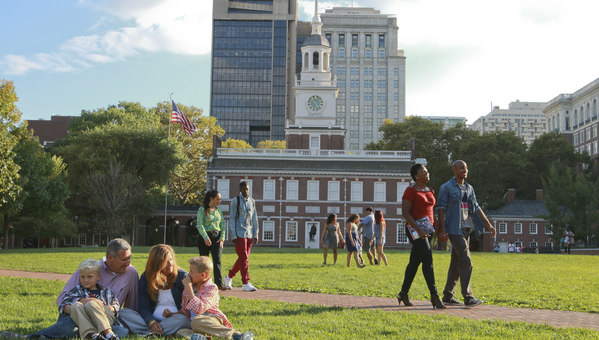 As the primary point of orientation for Independence National Historical Park, the Independence Visitor Center is the exclusive location to pick up free, timed tickets to tour Independence Hall.
Preview Your Experience

Welcome Film
Preview the city's sights and sounds in the official welcome film of Philadelphia generously supported by Independence Blue Cross, which plays daily in the Visitor Center's open-walled theater.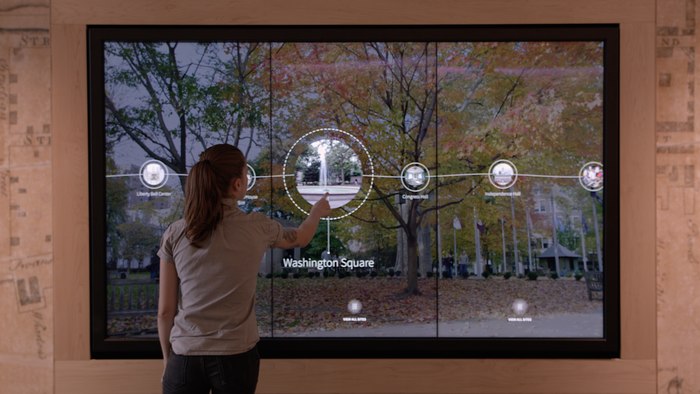 NPS Exhibit Space
Learn about Independence National Historical Park sites in this new exhibit, which features a digital information wall, educational interactives, and a replica of the chair used by the signers of the Declaration of Independence.
Make Memories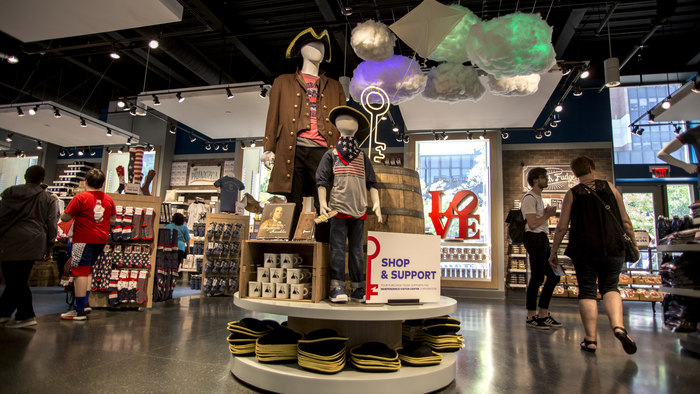 Gift Shop
Pick out the perfect souvenir to remember your trip at the official gift shop of Philadelphia, which offers both local goods and iconic Philly favorites, like Rocky memorabilia.
Visit the online gift shop before or after any visit!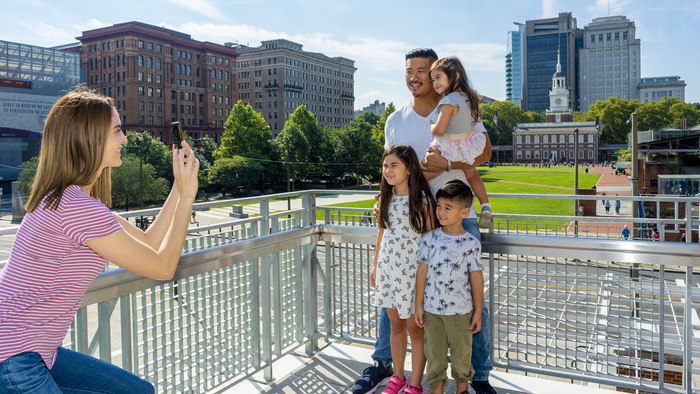 Pose & Share
Snap the perfect photo on the newly expanded Liberty View Terrace generously supported by Bank of America located on the Visitor Center's mezzanine level, with unparalleled views of the Birthplace of Independence as your backdrop.
Facilities & Accessibility
Parking:
Convenient parking is available at the AutoPark at Independence Mall, a 24-hour, Philadelphia Parking Authority garage located below the Visitor Center. 
Wheelchair Rentals:
Wheelchair rentals are available at the National Park Service Desk. Visitors can fill out a provided form and present a photo I.D. to reserve a manual wheelchair at no cost, based on availability and provided on a first-come, first-served basis.
American Sign Language (ASL):
ASL interpretation is available by request.  Please call (215) 597-7130 at least 14 days prior to your visit.
Stay Connected:
Free Wi-fi is available throughout our building, so you never have to go unplugged. Free cell phone charging is also available at the Charge-It Spot, located right inside our 6th St. entrance.
Hearing Impaired:
Open captions are available on all Independence National Historic Park films. Assistive Listening Devices are available upon request.
A portable Loop System is available at the Visitor Services Desk, compatible with all telecoil equipped hearing aids, cochlear implants, and induction loop receivers. A receiver with headphones is also available for persons without compatible hearing aids.