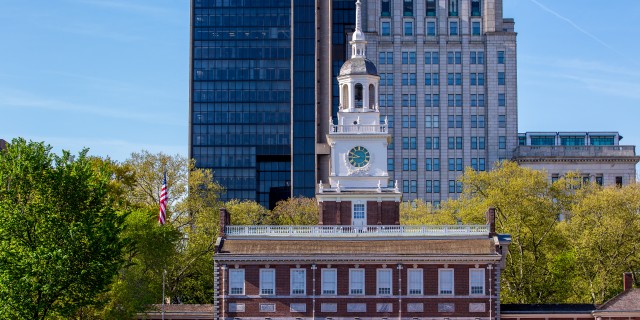 Photo by J. Fusco for Visit Philadelphia
Independence Hall is the birthplace of America.  In this building, the Declaration of Independence and U.S. Constitution were both debated and signed. The legacy of the nation's founding documents - universal principles of freedom and democracy - has influenced lawmakers around the world and distinguished Independence Hall as a UNESCO World Heritage Site.

Admission is free, but timed tickets are required from March 1 through December 31.  No timed tour tickets are required in January and February, after 5 p.m. during summer hours; or on some holidays, including Thanksgiving Day, Christmas Eve, and Independence Day. 
A limited quantity of free tickets are distributed from Independence Visitor Center daily beginning at 8:30 a.m., on a first-come, first-serve basis from the National Park Service Ranger Desk.
Advance reservations are available for a $1.00 handling fee online or by calling 1 (877) 444-6777. 
Hours
Open Daily
9 a.m. - 5 p.m.
Free, Timed Tickets Required
Accessibility
Wheelchair Accessible
Sign language interpreter
Service Animals Welcome