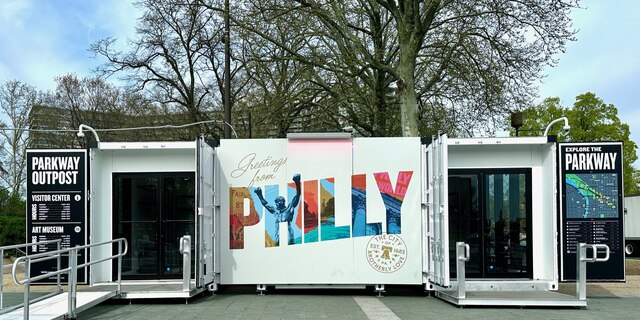 Parkway Visitor Center Outpost
The Philadelphia Visitor Center Corporation and Philadelphia Parks & Recreation, with support from Visit Philadelphia and the Philadelphia Convention and Visitors Bureau, have partnered to enhance the visitor experience along the Parkway with its new Visitor Center Outpost.
The new Parkway Outpost is in a stand-alone, modular structure adjacent to Eakins Oval. The Outpost provides visitor information and services, and sells tickets to major attractions, museums, and tours as well as Philly-themed merchandise from local businesses and makers.
We are thrilled to introduce new, exclusive Rocky Merchandise, crafted in partnership with the legendary Sly Stallone Shop. Find Rocky apparel, souvenirs, and memorabilia that you will not find anywhere else in the city. 
Hours
Thursday - Monday
10 a.m. - 5 p.m.
Christmas Eve
10 a.m. - 5 p.m.
New Year's Eve
10 a.m. - 5 p.m.
New Year's Day
10 a.m. - 3 p.m.
Location
Parkway Visitor Center Outpost
2600 Benjamin Franklin Parkway
Rocky Statute
Philadelphia, PA 19103
United States