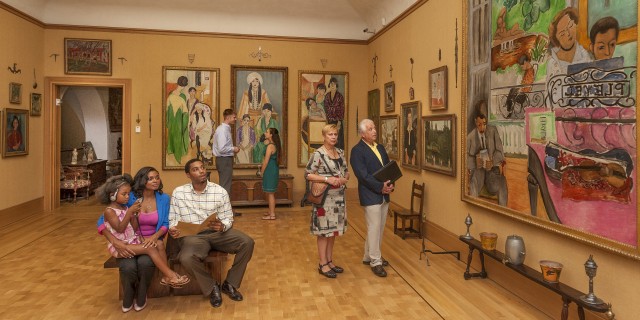 Photo by R. Kennedy for Visit Philadelphia
One of the newest additions to Philadelphia's culture-packed Benjamin Franklin Parkway, the Barnes Foundation houses hundreds of works by Impressionist, Post-Impressionist and early Modern masters, plus African masks, and Pennsylvania Dutch decorative arts.
Explore more than 3,000 masterpieces in this unique collection, including 181 Renoirs, 69 Cézannes, 59 Matisses, 46 Picassos, 16 Modigli­anis, and 7 Van Goghs, in a structure that combines the vision of founder Dr. Albert C. Barnes with a contemporary and sustainable design. You may think that the arrangement is almost as awe-inspiring as the art itself.
Pricing
Independence Visitor Center Exclusive Discount
Children (age 13 - 18)
$5.00
Hours
Open Thursday - Monday
11 a.m. - 5 p.m.
Accessibility
Wheelchair Accessible
Assistive Listening Systems