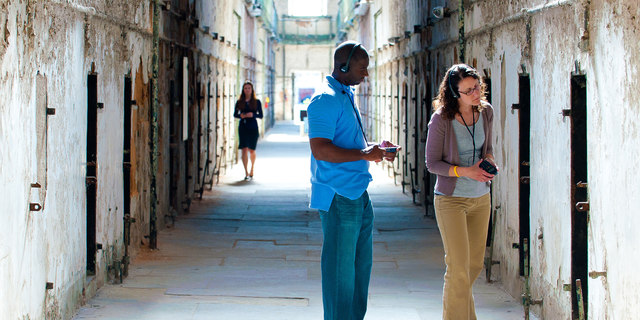 Photo by J. Fusco for Eastern State Penitentiary
Eastern State Penitentiary
Eastern State Penitentiary was once the most famous and expensive prison in the world, but stands today in ruin, a haunting world of crumbling cellblocks and empty guard towers. Known for its grand architecture and strict discipline, this was the world's first true "penitentiary," a prison designed to inspire penitence, or true regret, in the hearts of prisoners. Its vaulted, sky-lit cells once held many of America's most notorious criminals, including bank robber "Slick Willie" Sutton and Al Capone.
Visitors will tour the historic site using a modified version of "The Voices of Eastern State" Audio Tour, the organization's signature program, which is narrated by actor Steve Buscemi and features the voices of former prisoners and correctional staff. The audio tour guides visitors through the penitentiary complex, and now includes access to spaces previously closed, including Cellblock 11, which houses several site-specific artist installations; and the prison's synagogue and accompanying exhibit on Jewish life. These expanded offerings are included with admission and available to visitors for the first time since the onset of the pandemic.
Health & Safety Measures: Visitors age two and older are required to wear face masks. Tickets must be purchased in advance, and are available for purchase online and at the Visitor Center. 
Hours
Open Wednesday - Sunday
10 a.m. - 5 p.m. (last reservation 3:30 p.m.)
Accessibility
Wheelchair Accessible
Service Animals Welcome
Large Print
Assistive Listening Systems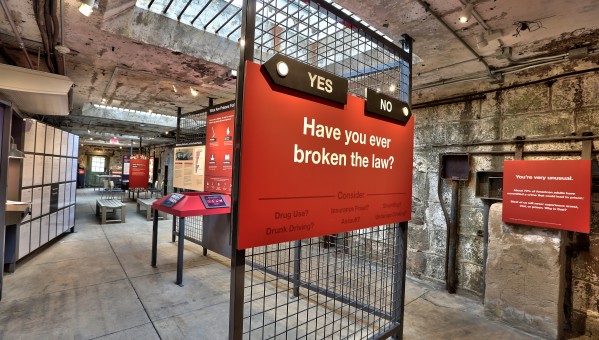 Prisons Today: Questions in the Age of Mass Incarceration
This groundbreaking, interactive exhibit explores the purpose and effectiveness of prisons today. Access is included with regular admission.