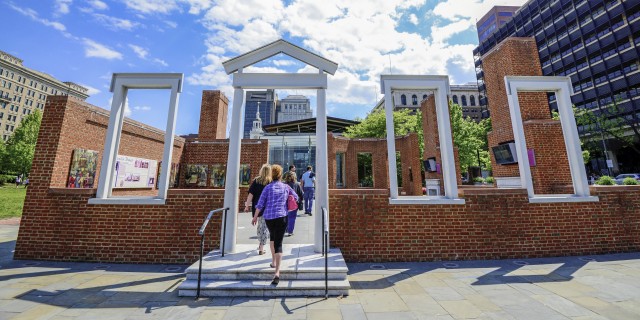 Photo by Miles Kennedy for Visit Philadelphia
The President's House Site hosts an outdoor exhibit, "Freedom and Slavery in the Making of a New Nation," which examines the paradox between slavery and freedom in the founding of the nation. Presidents Washington and Adams both lived and worked, along with their households, at a home that once stood on this spot.
See the names of the nine enslaved members of President Washington's household who lived at this site. One of them, Oney Judge, seized her freedom while the Washington family was eating dinner. With the help of the free black community and a white ship captain, she eventually made her way to a new life in New Hampshire.
The house was demolished in 1832, but now videos share the stories of the enslaved who lived and worked here, while text panels shed light on everything from the slave trade to the work of the executive branch. Look for the foundations of the home still embedded in the ground in this is a self-guided exhibit.
Hours
Open Daily
7 a.m. - 10 p.m.
Accessibility
Wheelchair Accessible
Service Animals Welcome
Closed Captioning