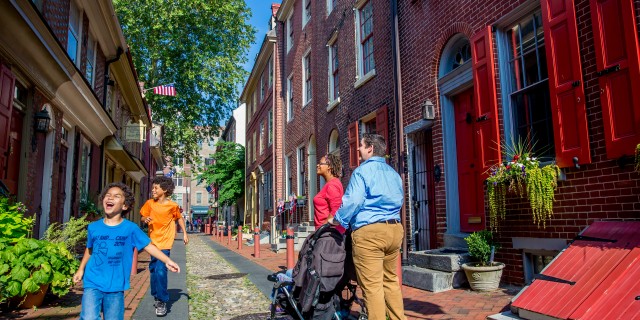 Photo by J. Fusco for Visit Philadelphia
Elfreth's Alley is a National Historic Landmark in Philadelphia's Old City neighborhood. 

A residential neighborhood with houses built between the 1720s and the 1830s, Elfreth's Alley has been home to artisans, factory workers, laborers, and professionals over three centuries. The 18th- and early-19th-century architecture with old-fashioned flower boxes, shutters, and Flemish bond brickwork evokes Philadelphia's time as a bustling port during the Colonial period and during the first decades of the republic. 

Visitors can tour the house at #126 on the Alley, which is now a museum, to learn about dressmakers, shoemakers, and other artisans who lived in the house, as well as about the larger history of the Alley.
 
Hours
Closed for the season
Museum opening April 14
Friday - Sunday
Noon - 4 p.m.