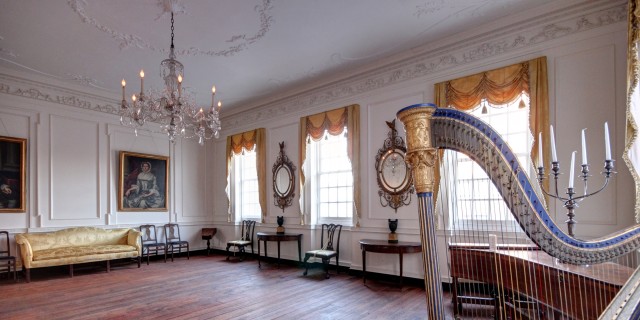 Photo by Philadelphia Landmarks
Credited as being the Mayor of Philadelphia during the American Revolution, Samuel Powel lived at this elegant, colonial mansion in Society Hill with his wife, Elizabeth Willing Powel.

In their home, the Powels entertained the political elite with lavish meals; and Elizabeth' strong voice became one of Washington's closest confidants during his presidency, when she advised him on both personla and political issues. Famous visitors of the Powels included George and Martha Washington, Benjamin Rush, Benjamin Franklin, the Marquis de Lafayette, and John Adams.
Built in 1765, the property is one of the finest examples of Georgian architecture in the United States. It was used for manufacturing and warehousing before it was saved from demolition by the Philadelphia Society for the Preservation of Landmarks in 1931.
The Powel House was later restored and opened as a museum dedicated to Colonial Revivalism, and played an integral role in the redevelopment of Society Hill into one of the nation's premier heritage neighborhoods just blocks from Independence Hall.
 
Hours
Tours available on the hour
Limited capacity
Thursday - Saturday
11 a.m. - 3 p.m.