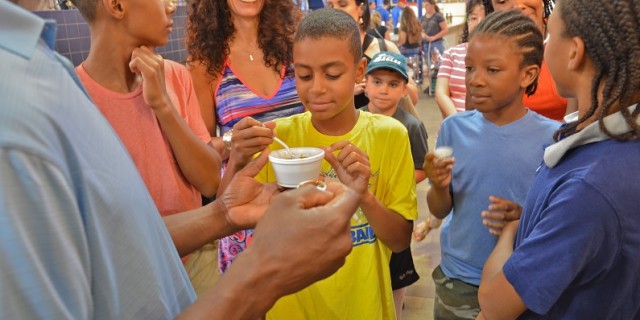 Photo by Carolyn Wyman
Taste of Philly Food Tour
Philly is famous for its cheesesteaks, hoagies and pretzels. Learn the story behind these and other local food favorites, and the vibrant and historic Reading Terminal Market where they're sold, during this 75-minute walking tour in the Market.

You'll see pretzels being twisted, hear the story behind the Breyers Ice Cream logo, and find out where Milton Hershey got the idea for Hershey's Kisses. This is fun history--that has nothing to do with the government or what you learn in history text books!

The Taste of Philly Food Tour is the creation of local food writer Carolyn Wyman, author of the definitive "Great Philly Cheesesteak Book" (Running Press); "Spam: A Biography" (Harcourt); and "Jell-O: A Biography." Wyman has been featured on NPR's "Fresh Air," "The Rosie O'Donnell Show" and "Jay Leno."
Tickets available for purchase at the Independence Visitor Center. Call for availability. 
Pricing
Taste of Philly Food Tour
Children (Ages 7 - 11)
$9.95
Hours
Wednesday and Saturday
10 a.m.
Accessibility
Wheelchair Accessible
Telephone Typewriter (TTY)
Sensory-Friendly
Location
Taste of Philly Food Tour
12th and Filbert Streets
Philadelphia , PA 19107
United States