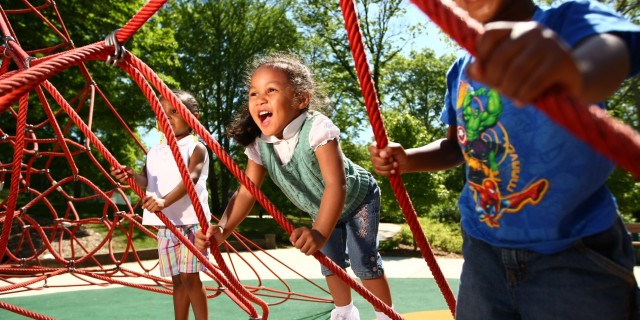 Photo courtesy of Smith Memorial Playground
Smith Memorial Playground & Playhouse
Located in East Fairmount Park, Smith Memorial Playground and Playhouse has been a treasured destination for more than a century. Designed solely as a play space for children, this landmark is home to a four-story, 16,000-square-foot "play mansion," an iconic 44-foot wooden slide, and state-of-the-art Play Pod with a giant see-saw and spinning "jungle gyms."
The Playhouse, designed for children ten and under, offers toys, games and activities including a tumbling room, a book nook, a climb-on train and an indoor tricycle room for exploring "Smithville," a mini-town made just for kids.

Smith has hosted more than nine million children since its opening, and is an ideal attraction for families. It's free for all to enjoy, and donations are welcomed.
Hours
Tues. - Sun., 10:00 a.m. - 4:00 p.m.
Playground Hours: (weather-permitting)
Tues. - Sun., 10:00 a.m. - 4:00 p.m.
Playhouse Hours:
Location
Smith Memorial Playground & Playhouse
3500 Reservoir Drive
Philadelphia, PA 19121
United States