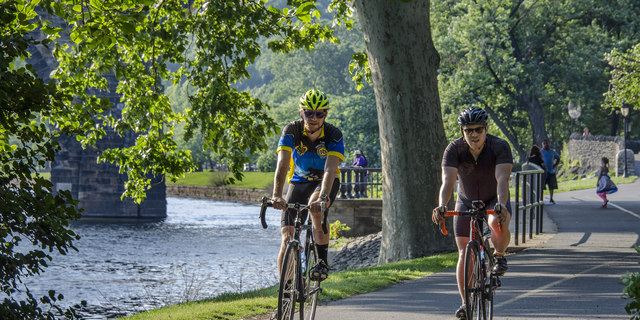 Photo by R. Kennedy for Visit Philadelphia
One of Philly's most popular running and biking destinations, the Kelly Drive Loop is a nearly nine-mile lap that hugs both sides of the Schuylkill River. Depending on the season, you'll find rowers sculling downstream, weeping cherry trees with gorgeous pink blooms or geese parenting baby chicks along the way.
The paved path begins behind the Philadelphia Museum of Art and winds its way along Boathouse Row before reaching Falls Bridge in East Falls. At the bridge, hang a left, cross over to the opposite side of the river and head back toward the city to finish the second half of the loop on Martin Luther King Jr. Drive.
Note: Martin Luther King Jr. Drive is typically closed to vehicular traffic from 6 a.m. to 5 p.m. on Saturdays and Sundays between April and October, allowing bicyclists, runners and more to utilize the entire street for most of the weekend.