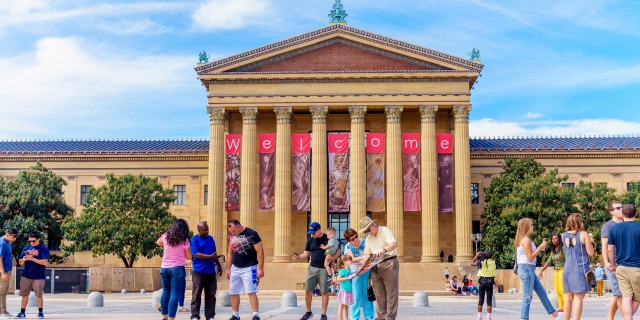 Photo by J. Fusco for Visit Philadelphia
Philadelphia Museum of Art
One of the largest art museums in the nation, the Philadelphia Museum of Art has something for every art enthusiast.
The landmark building houses one of the most comprehensive collections in the country, featuring some of the greatest gatherings of American, Asian, and European art, and the world's largest Marcel Duchamp collection. 
Its more than 200 galleries include more than 200,000 objects, highlighting more than 2,000 years of creative paintings, sculptures, photography, and textiles from all over the globe. Additionally, the Museum hosts about 25 special world-class exhibitions per year.
Pricing
General Admission
Seniors (Ages 65 +)
$23.00
Children (Ages 18 and under )
Free
Hours
March 13 - 30, 2020
Closed Temporarily
Accessibility
Wheelchair Accessible
Sign language interpreter
Service Animals Welcome
Sensory-Friendly
Mother's Room
Large Print
Braille
Audio Description
Assistive Listening Systems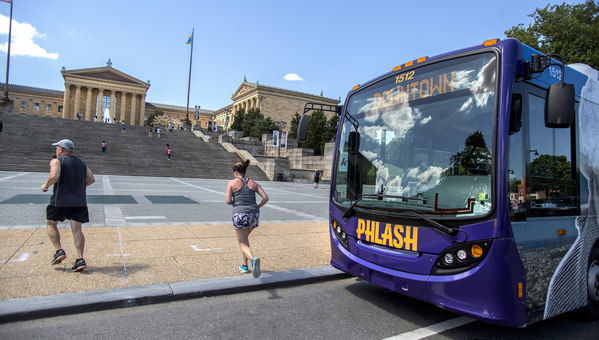 The Philly PHLASH Downtown Loop is the most convenient way for visitors to get around, with 20 stops located near must-see attractions, including this one!
Location
Philadelphia Museum of Art
2600 Benjamin Franklin Parkway
Philadelphia, PA 19130
United States