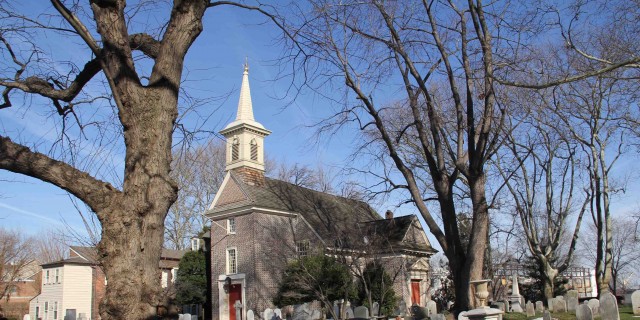 Photo courtesy of NPS
Before Pennsylvania, there was New Sweden. Discover this last historic link to a forgotten past. 
Gloria Dei Church is both a National Historic Site and an active congregation. The church was built in 1700 by Swedish Lutherans who settled in the area; and became part of the Episcopal Diocese in 1845. Visitors are welcome to tour the Historic Site during the week when religious services are not active. 

The church features historic artifacts including fine wood carvings from the 18th Century and a bronze bell that was cast in 1806. The historic burial ground is also open for visitors to tour and examine its Revolutionary War-era tombstones. The graves of early American painter James Peale and "Father of American Ornithology," naturalist Alexander Wilson are here; as well as members of George Washington's army.
There is no fee to enter, and reservations are not required. Visitors who wish to confirm hours prior to arrival can contact the rector by phone at (215) 389-1513. Those visitors wishing to obtain a National Park Passport stamp should call ahead to ensure the rector will be in the church office, located in the Roak House.
Hours
Historic Site Hours: Tuesday - Sunday
9 a.m. - 4 p.m.
Religious Services: Sunday
10 a.m.
Accessibility
Wheelchair Accessible
Service Animals Welcome
Location
Gloria Dei Church National Historic Site
916 S. Swanson Street
Philadelphia, PA 19147
United States