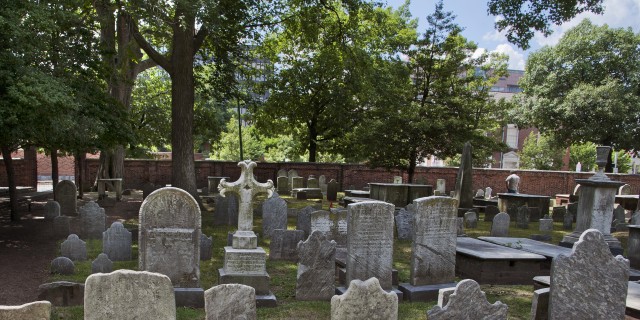 Photo by R. Kennedy for Visit Philadelphia
Christ Church Burial Ground
Christ Church Burial Ground is one of America's most unique Colonial and Revolution-era graveyards, with 1,400 markers on two beautiful acres right in the heart of historic Philadelphia.
It is the final resting place for five signers of the Declaration of Independence, including Benjamin Franklin.
Learn about this early period of American history and become more familiar with the lives of the American colonists with a guided tour. A historian guides visitors to markers of important Colonial and Revolution-Era people and tells the stories of their lives.
Pricing
Admission
Children (Ages 5 - 12)
$1.00
Guided Tour
Children (Ages 5 - 12)
$3.00
Hours
Monday - Saturday
10 a.m. - 4 p.m.
Accessibility
Wheelchair Accessible
Service Animals Welcome