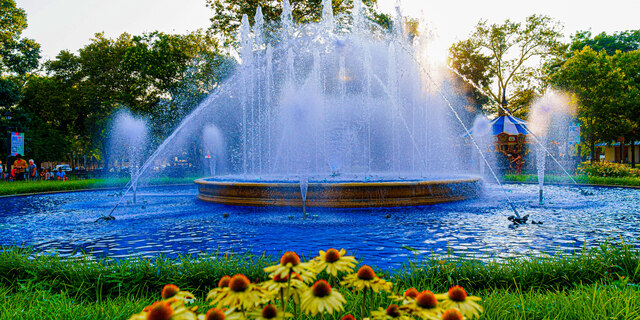 J. Fusco for Historic Philadelphia, Inc.
Franklin Square is Philadelphia's original green space, first created as open space in the 1682 plan of Philadelphia, the seven-and-a-half acre Franklin Square offers family fun in one of the city's most charming historic parks filled with expansive lawns and shady trees.
Located steps away from the Liberty Bell, in one of William Penn's original five squares, award-winning Franklin Square features one of the country's oldest public fountains featuring a daytime and nighttime water and light show, Philly Mini Golf presented by IBEW Local 98, Parx Liberty Carousel, two playgrounds, and SquareBurger, operated by Cooperage.
Putt through some of the city's most famous icons, take a ride on hometown racehorse heroes Afleet Alex or Smarty Jones aboard the carousel, swing along with the dancing water of the fountain, and dine on the finest burgers and shakes in town.
Accessibility
Wheelchair Accessible
Service Animals Welcome