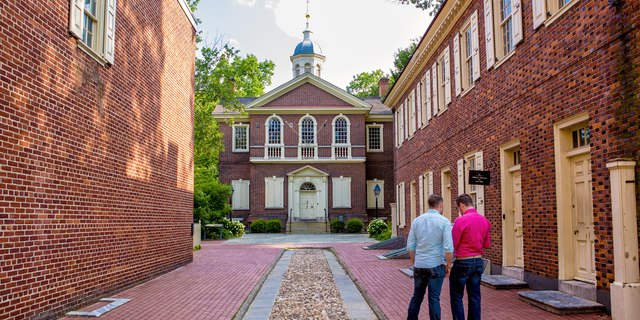 Photo by J. Fusco for Visit Philadelphia
Carpenters' Hall will close April 17 for a preservation project.
Carpenters' Hall is a treasure in Historic Philadelphia. It hosted the First Continental Congress in 1774 and was home to Franklin's Library Company, The American Philosophical Society, and the First and Second Banks of the United States.
Health and Safety: Due to the COVID-19 pandemic, only 10 people (including staff) are allowed in the main hall at a time. Face masks are required at all times during a visit.  Anyone who is feeling ill, or has been in close proximity to someone who has been exposed to COVID-19, should refrain from visiting. 
Accessibility
Wheelchair Accessible
Service Animals Welcome