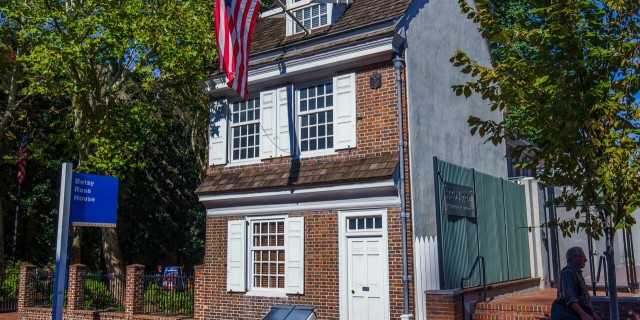 Photo by J. Fusco for Historic Philadelphia, Inc.
Visit the charming, 18th century home of America's most famous flag maker, just steps from Independence Hall and the Liberty Bell, the Betsy Ross House tells the story of America's first Stars & Stripes and more.
The visit starts with the gallery exhibit, Stitching the Story Together, which invites visitors to discover the life behind the legend of Betsy Ross and the request to sew a flag that made her one of the most well-known women in American history.
Continue through the House to learn about the many contributions colonial women made during our nation's early days. Along the way, enjoy many interactive exhibits like Women at Work in Revolutionary America that illustrates the many jobs women held in 18th century America, and meet Phillis the laundress, who was born a slave and later freed, becoming a member of colonial Philadelphia's thriving Free Black community.
The highlight of the visit is meeting Betsy Ross working in her upholstery shop and get to know the real woman behind the iconic flag story and ask her all about her fascinating life and times.
Pricing
Self-Guided Tour
Children (Ages 4 - 12)
$4.00
Hours
Open Daily
10 a.m. - 6 p.m.
Accessibility
Service Animals Welcome
Audio Description
Location
Betsy Ross House
239 Arch Street
Betsy Ross House
Philadelphia, PA 19106
United States