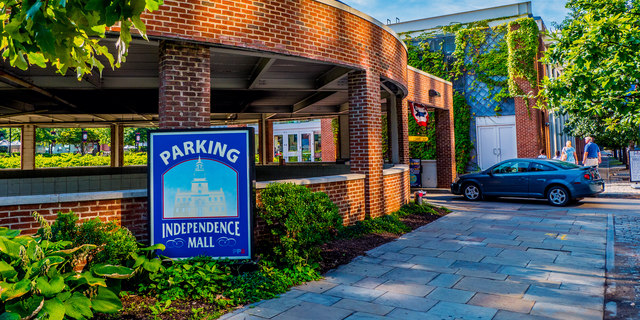 Photo by J. Fusco for IVCC
The Philadelphia Parking Authority operates the AutoPark at Independence Mall, a 24-hour fully enclosed and secure parking garage, located underneath the Independence Visitor Center. It is a participant in the PHLASH Park & Ride discount program.

The AutoPark at Independence Mall is located between Market and Arch Streets, with entrances on both 5th and 6th Streets. 
Pricing Rates:
Up to 1/2 hour: $4
Up to 1 hour: $9
Up to 1.5 hours: $14
Up to 2 hours: $18
Up to 10 hours: $21
Up to 24 hours: $23
Lost Ticket: $23
Monthly: $235.00
Special Rates:
PHLASH "Park & Ride" Discount Rate: $11
Early Bird (Enter before 9 a.m., exit by 6 p.m.): $14
Evening Rate (Sunday - Thursday): $10
Evening Rate (Friday and Saturday): $7
Accessibility
Wheelchair Accessible
Service Animals Welcome