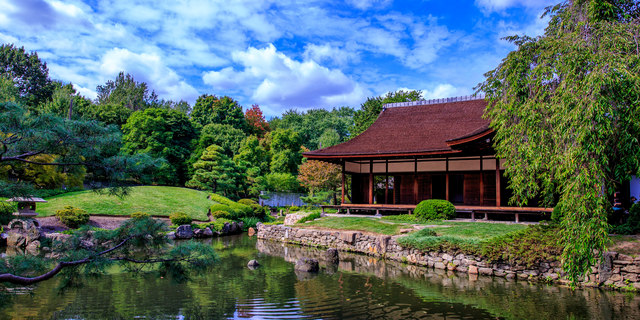 Photo by J. Fusco for Visit Philadelphia
Shofuso Japanese House and Garden
Designed by architect Junzo Yoshimura, this traditional-style Japanese house, Shofuso, was built in Japan in 1953 using traditional techniques and materials. It was shipped to New York, and exhibited at the Museum of Modern Art, before moving to its permanent home within a nationally-ranked garden located in West Fairmount Park in 1958.
In 2007, international artist Hiroshi Senju, inspired by the garden's waterfall, donated 20 contemporary murals to Shofuso, which are permanently displayed inside the house.
This historic site and museum includes a hill and pond garden with a tiered waterfall, island, and koi fish, a tea garden featuring a traditional tea house, and a courtyard garden leading to a bathhouse. 
Hours
Open Wednesday - Sunday
11 a.m. - 5 p.m.
Location
Shofuso Japanese House and Garden
Horticultural and Lansdowne Drs.
West Fairmount Park
Philadelphia, PA 19131
United States