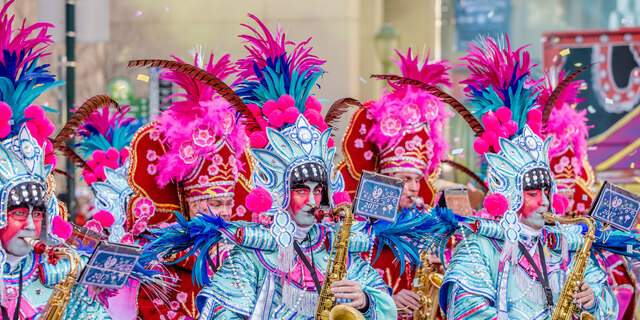 Photo by J. Fusco for Visit Philadelphia
Mummers Parade bleacher seating tickets and Fancy Brigade Finale Show tickets are now available to purchase.
Fancy Brigade and Bleacher seat tickets are physical, pre-printed tickets that must be shown for entry  -- no email confirmation or digital receipt will be accepted. 
Pricing
Call 1-800-537-7676 to inquire or visit us in person to purchase
Hours
9 a.m. - 5 p.m.
Ticket Pick-up at the Independence Visitor Center
Sunday, Jan. 1, 9 a.m.
Mummers Parade
Sunday, Jan. 1, 11:30 a.m. & 5 p.m.
Fancy Brigade Finale Shows
Location
Mummers Tickets
599 Market St.
Pick-Up Location: Independence Visitor Center
Philadelphia, PA 19106
United States