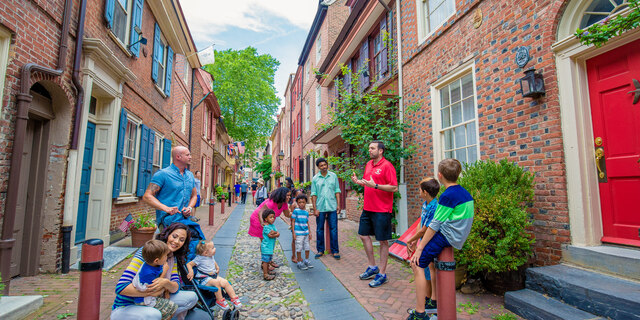 J. Fusco for Visit Philadelphia
Founding Footsteps Philly Phables Walking Tour
Trace the footsteps of the Founding Fathers through the streets and landmarks of historic Philadelphia and see the city through their eyes.
This entertaining walking tour of historic Philadelphia is led by knowledgeable and passionate history teachers, who cover famous historic moments in American history--and history that you won't see in textbooks. This tour brings history to life and makes you laugh!
Philly Phables Walking Tours meet and start from the southwest corner of 3rd and Arch Streets, and end near Independence Hall (about 4 blocks away from the starting point).
Hours
Walking Tours Available Daily
Approximately 90 minutes
Accessibility
Wheelchair Accessible
Service Animals Welcome
Location
Founding Footsteps Philly Phables Walking Tour
302 Arch Street
Philadelphia, PA 19106
United States