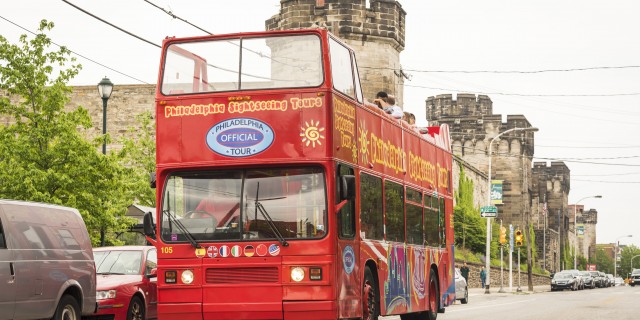 Philadelphia Sightseeing Tours
Experience Philadelphia with an expert-guided tour of the city. Our bus passes provides you access to all Philadelphia Sightseeing Tours double decker buses operating on a 28 stop, hop-on hop-off city loop tour.
Our dedicated route provides locals and visitors with access to over 100 sites and attractions throughout Philadelphia. Traveling over 16 miles of the city, Philadelphia Sightseeing Tour buses provide the perfect combination of expert commentary and transportation so that our riders can gain a true local experience when touring the City of Brotherly Love. You will hear all about Philadelphias' rich history and culture while traveling aboard an open top double-decker bus. Our city tour is a must when you visit Philadelphia!
Philadelphia is a city of neighborhoods and many different experiences. Review our route map of Philadelphia Sightseeing Tours' hop-on hop-off services to see what Philadelphia landmarks you can easily visit via our 28 different stops along the way. The daytime hop-on hop-off loops begin at the Bourse Building in the Independence National Historic Park, right across from the Liberty Bell and Independence Hall.
Hours
Tours Run Daily
9:30 a.m. - 5 p.m.
Accessibility
Wheelchair Accessible
Service Animals Welcome
Audio Description
Location
Philadelphia Sightseeing Tours Inc.
111 S. Independence Mall East
Philadelphia, PA 19106
United States