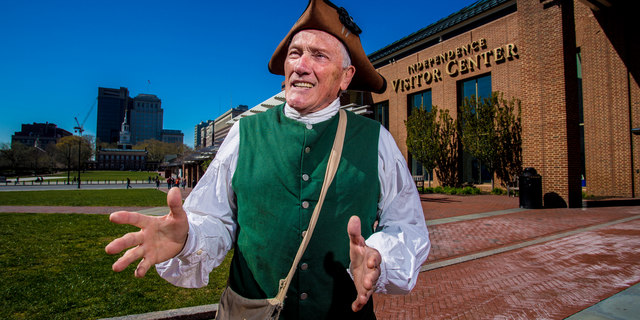 J. Fusco for IVCC
Franklin Footsteps Walking Tour
Walk in the footsteps of Benjamin Franklin and other colonial Philadelphians who forged the nation and discover where the United States was born on the Franklin Footsteps Colonial Walking Tour.
A professional guide dressed in traditional Colonial garb will take you past the Betsy Ross House, the site where the first U.S. flag was made; Christ Church, where seven signers of the Declaration of Independence worshipped; Christ Church Burial Ground, the final resting place of Benjamin Franklin; Elfreth's Alley, a picturesque alley lined with 32 original Colonial era homes; Franklin Court, the site of Benjamin Franklin's home; Independence Hall, where the Declaration of Independence and U.S. Constitution were signed; and the Liberty Bell, an enduring symbol of independence and freedom.
Tours run seasonally. When in season, tours depart from the kiosk located inside the Independence Visitor Center. 
Hours
Tours Run Saturday & Sunday
11 a.m., 1 p.m., 3 p.m.
Accessibility
Wheelchair Accessible
Service Animals Welcome
Location
Franklin Footsteps Walking Tour
599 Market Street
Big Bus Kiosk located inside Independence Visitor Center
Philadelphia, PA 19106
United States