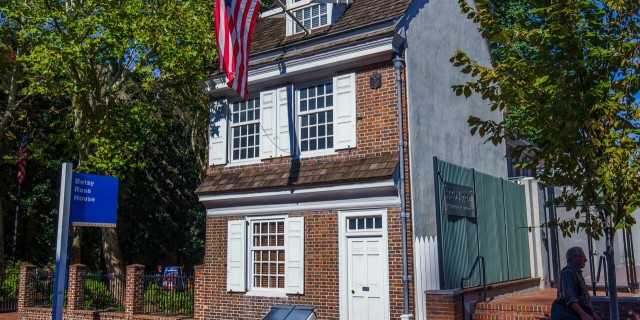 Photo by J. Fusco for Historic Philadelphia, Inc.
Visit the charming, 18th century home of America's most famous flag maker, now preserved as a museum dedicated to sharing the story of America's first "stars & stripes" and the legend of Betsy Ross. 
The historic residence includes a gallery exhibit, "Stitching the Story Together," that explores the life of Betsy Ross and the request that made her one of the most well-known women in American history. Visitors can also meet a historic impersonator of Betsy Ross ask her questions about her fascinating life as she works in her upholstery shop.
The Betsy Ross House also includes exhibits about the contributions of other women, like "Women at Work in Revolutionary America," which illustrates the jobs women held in colonial America. During Women's History Month and in the summer, visitors can meet Phillis the Washerwoman, who was born into slavery and became part of an active community of free African Americans living in 18th century Philadelphia. As a free and educated woman woman of color, Phillis enjoyed a degree of independence very unusual for the era. Visitors can speak with her and learn more about her fascinating life. 
Accessibility: The Betsy Ross House is an almost 300 year-old historic residence with narrow, winding stairs, which are not accessible to strollers, wheelchairs, walkers, or motorized scooters. For guests with limited mobility, the Museum offers a "first-floor tour," that includes some walking and two steps up/down. For guests who are unable to walk unassisted, the Museum offers a complimentary audio guide with a book of pictures that depict the inside of the house. The Courtyard, which includes Betsy Ross's grave and medicinal herb garden; the Museum store; exhibit gallery; and first-floor restroom are all accessible. Betsy Ross House staff are happy to accommodate any guest needs to ensure a fun and informative visit.
Hours
As of March 14, 2020
Closed Temporarily
Location
Betsy Ross House
239 Arch Street
Betsy Ross House
Philadelphia, PA 19106
United States