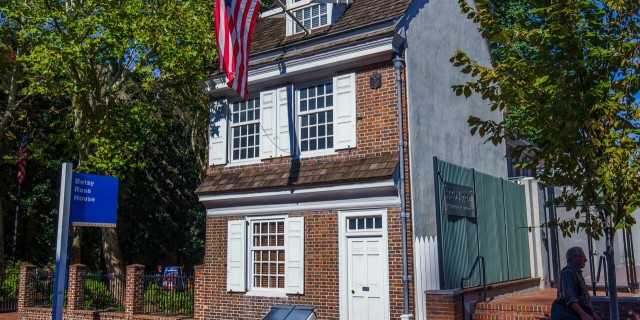 Photo by J. Fusco for Historic Philadelphia, Inc.
Visit the charming, 18th century home of America's most famous flag maker, now preserved as a museum dedicated to sharing the story of America's first "stars & stripes" and the legend of Betsy Ross. 
The historic residence includes a gallery exhibit, "Stitching the Story Together," that explores the life of Betsy Ross and the request that made her one of the most well-known women in American history. Visitors can also meet a historic impersonator of Betsy Ross ask her questions about her fascinating life as she works in her upholstery shop.
The Betsy Ross House also includes exhibits about the contributions of other women, like "Women at Work in Revolutionary America," which illustrates the jobs women held in colonial America. 
New experiences: Betsy is in the Upholstery shop daily and Once Upon a Nation Storytellers are onsite Friday - Monday from 11 a.m. - 4 p.m. 
Location
Betsy Ross House
239 Arch Street
Betsy Ross House
Philadelphia, PA 19106
United States