Photo by M. Fischetti for VISIT PHILADELPHIA®
Visit Philly Overnight Hotel Package
Philly's more fun when you sleep over!  Visit Philadelphia welcomes all visitors to spend the night with the Visit Philly Overnight Hotel Package, offered by 36 participating hotels.
The Visit Philly Overnight Hotel Pacakge can be used to book one or two consecutive nights (including weekends!), and includes FREE hotel parking. Guests will be able to select one additional perk. 
Additional Perks this year:
History Perk: Two tickets to the National Constitution Center and two tickets to the Museum of American Revolution.
Arts & Culture Perk: Two tickets to the Pennsylvania Academy of Fine Arts and 10% off purchase in the museum gift shop.
Food & Drink Perk: A $50 gift card for use at a Schulson Collective restaurant which includes, Alpen Rose, DK Sushi, Double Knot, Guiseppe & Sons, Harp & Crown, Independence Beer Garden, Prunella, Sampan, Samuel's and Via Locusta.
How the Package Works:
You can purchase your package and see a list of the hotels on Visit Philly's website. After purchasing, you will receive a voucher to redeem the perk of your choice at one of two visitor centers:
Hours
Daily
One or Two Consecutive Nights
October 20, 2022 - January 31, 2023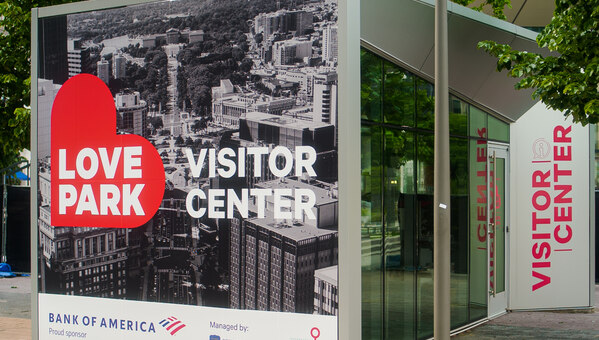 With the historic Welcome Center building undergoing renovations for other uses, SMP Architects designed a stand-alone visitor services kiosk with a minimal footprint to invite visitors in and respond to the existing architecture in LOVE Park. The new kiosk allows visitor center staff to provide information, sell tickets, and serve as a resource to all visitors in this area of Center City. (Photo © D. King)
Location
Visit Philly Overnight Hotel Package
599 Market Street
Philadelphia, PA 19106
United States