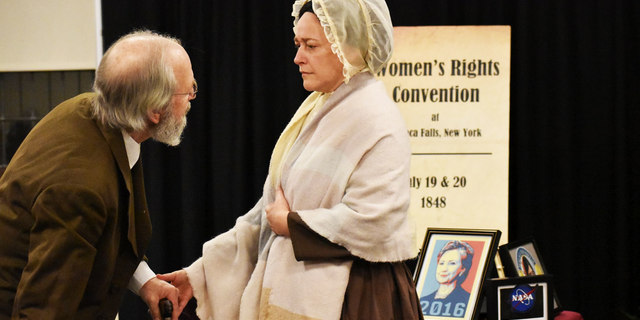 Under the Bonnet: Lucretia Mott
Under the Bonnet highlight's the life of Lucretia Mott, a tenacious woman who spent her life fighting for the rights of women and African Americans who abided by the Quaker tenet that all people are equal. Mott helped found the Philadelphia Female Anti-Slavery Society and co-wrote the Declaration of Sentiments for the first Women's Rights Convention in Seneca Falls, New York, igniting the fight for women's suffrage. She also helped found Swarthmore College in Pennsylvania and continued her resolve for creating equality until her final days.
Under the Bonnet reveals the strength and tenacity of her character and accomplishments, and conversations with her husband, James Mott, that allows us a glimpse of the tender and compassionate woman under the bonnet.
The play is included with regular Museum admission. Register online for the play.
Pricing
Included with the price of General Admission
Children (age 6-18)
$6.00
Hours
Sunday, March 8
2 - 3 p.m.
Location
Under the Bonnet: Lucretia Mott at Brandywine River Museum of Art
1 Hoffmans Mill Rd
Chadds Ford, PA 19317
United States