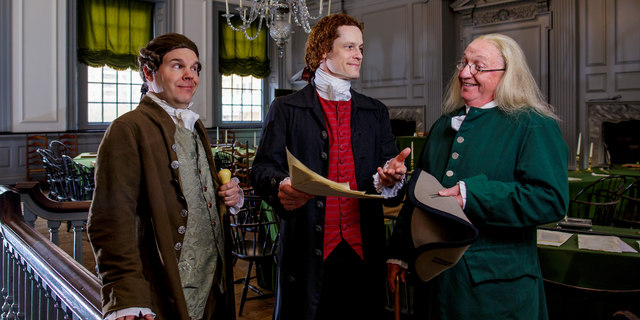 Photo by J. Fusco for Historic Philadelphia, Inc.
Independence After Hours is an evening experience that includes an authentic Colonial meal, and a behind-the-scenes glimpse into the debates between Founding Fathers in the summer of 1776. 

Created in partnership with Independence National Historical Park, this exclusive opportunity to visit inside Independence Hall at night after public hours shows what those late nights of the summer of 1776 were like. 

The evening begins with a delicious three-course meal at the historic City Tavern where Colonial townspeople entertain guests.
The Colonial host then "sneaks" everyone into the Pennsylvania State House (now known asIndependence Hall), once he talks his way past the vigilant night watchman.  Inside the Hall, visitors witness several Founding Fathers deep in discussion over the creation of the Declaration of Independence.
Pricing
Tour
Children (Ages 12 and under)
$55.00
Hours
Friday & Saturday
5:30 p.m.