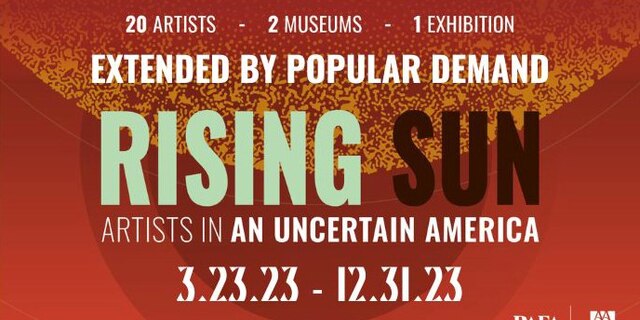 Rising Sun: Artists in an Uncertain America
The African American Museum will be closed Thanksgiving, Black Friday, December 2, December 9, Christmas, New Year's Eve and New Years Day please plan accordingly when purchasing tickets as the museum will not be open to view the exhibit.
Two historic museums come together for a transformative exhibition of contemporary art. Join the African American Museum in Philadelphia and the Pennsylvania Academy of the Fine Arts for Rising Sun: Artists in an Uncertain America, an exhibition of new works examining the provocative and timely question: "Is the sun rising or setting on the experiment of American democracy?"
Installations by 20 celebrated artists explore themes of equality, free speech, and other tenets of democracy. In a time when perspectives in the U.S. are radically disparate, we invite you to explore how art inspires us to reflect on, challenge, and expand our own lived experiences.
Visit the sweeping exhibition across both museums, located within walking distance of each other in Center City Philadelphia.
Joint Tickets are valid through Sunday, December 31. Sold exclusively at the Independence Visitor Center, LOVE Park Visitor Center, and online.
Hours
Thursday, March 23 - Sunday, December 31, 2023 at PAFA
Thursday, March 23 - Sunday, March 3, 2024 at AAMP
African American Museum in Philadelphia:
Thursday - Sunday: 10 a.m. - 5 p.m.
Pennsylvania Academy of the Fine Arts:
Thursday - Friday: 10 a.m. - 4 p.m.
Saturday - Sunday: 11 a.m. - 5 p.m.
Both: Closed Monday - Wednesday
Accessibility
Wheelchair Accessible
Service Animals Welcome
Joint Ticket Terms
If you have already purchased an individual ticket to AAMP or PAFA, please note that all sales are non-transferable. No refunds or exchanges will be accepted. When visiting either museum visitors are encouraged to purchase a Joint Ticket, which provides access to both museums at a reduced rate overall for the duration of the Rising Sun exhibition.
Your entrance into both museums grants us the permission to use your likeness in a photograph, video, or other digital media in any and all of its publications, including web-based or print publications, without payment or other consideration to support our institutional marketing efforts. 
--
By purchasing a ticket to the Pennsylvania Academy of the Fine Arts (PAFA), all visitors and parents or guardians of minors affirm that they have read and understood, and willingly assume, the risks and terms described herein.
I understand that using the staircase to access Petah Coyne's installation at PAFA (the "Activity") involves risks, dangers, and hazards, including but not limited to slips, trips and falls. I agree to refrain from any action that may cause injury to myself or others, and to abide by, and to require and minor participants in my care to abide by, all rules posted by PAFA and all written or verbal instruction provided by employees or security personnel at PAFA. I understand that failure to obey such rules and instruction may lead to my expulsion from PAFA. 
I, for myself, my heirs, executors, administrators and assigns, hereby waive, release, acquit and forever discharge the PAFA, its employees, directors and agents from any and all claims, rights, demands, actions, liabilities, obligations and causes of action of any and all kinds, nature and character whatsoever, known or unknown, that I or any of my minor children may sustain arising out of or relating to the Activity or any other services and facilities provided by PAFA (the "Services") This release and waiver includes any claims that I may have relating to medical, or other care I may receive as the result of the Activity or Services or any injury I or my minor children may sustain. I understand that the granting of my foregoing release is an express condition to my being permitted to participate in the Activity.
The staircase is accessible from 10 a.m.  to 2 p.m. on Thursday and Friday, and from 11 a.m. to 3 p.m. on Saturday and Sunday. Access is limited to two people at a time. Children under thirteen must be accompanied by an adult. A timelapse video of the sculptures at the top level is built into the staircase, so that all visitors can experience the sculptures at any time during museum hours.