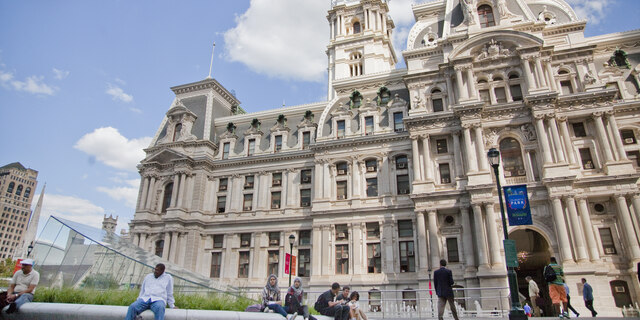 M. Fischetti for Visit Philadelphia
Perhaps the nation's largest and most elaborate seat of municipal government, Philadelphia's City Hall is the highest masonry load-bearing structure in the world, and the finest example of the French Second Empire architecture in America.
City Hall's structure is adorned with the most comprehensive sculptural decoration of any American building, featuring more than 250 sculptures designed by Alexander Milne Calder, including the statue of William Penn that stands atop the structure's tower.  
A National Historic Landmark, City Hall continues to inspire citizens and visitors alike, who can learn more about the building's art, architecture, and history on a guided walking tour around the building's perimeter.
Learn more interesting facts on the City Hall Exterior Tour, available Thursday - Saturday, weather-permitting. Capacity is limited to ensure proper social distancing. Tours last approximately one hour, and depart from the LOVE Park Visitor Center. 
Hours
Guided walking tours available weather-permitting and limited capacity.
Tours approximately one hour in duration.
Thursday - Saturday
Tours at Noon and 1 p.m.
Accessibility
Wheelchair Accessible
Service Animals Welcome
Location
City Hall Exterior Tour
1569 John F. Kennedy Blvd.
Philadelphia, PA 19102
United States